We utilize a holistic approach to healing, offering a combination of individual and group psychodynamic psychotherapy, the latest advances in neurostimulation, psychopharmacological interventions, expressive and alternative therapies, and more.
The clinical outcomes that our residents achieve show that this comprehensive, personalized approach works.
We use two primary measurement tools to assess resident improvement:
Patient Health Questionnaire (PHQ)
The Patient Health Questionnaire (PHQ) is a self-administered diagnostic tool for mental health conditions. The PHQ-9 is the module used for screening, diagnosing, monitoring, and measuring the severity of depression.
67% of residents at The Retreat entered the program with moderate to severe symptoms of depression; 33% entered with minimal to mild symptoms over depression. Upon discharge, 88% of residents reported improvement in their depressive symptoms.
World Health Organization Disability Assessment Scale (WHODAS)
WHODAS is an assessment tool used to measure how someone is functioning in their daily life and how they are participating in activities. It measures functioning in six key areas:
Cognition: understanding and communicating
Mobility: moving and getting around
Self-care: hygiene, dressing, eating, and staying alone
Getting along: interacting with other people
Life activities: domestic responsibilities, leisure, work, and school
Participation: joining in community activities
Through the WHODAS, we gain a better understanding of how a person is able to live their day-to-day life – are they able to fulfill their roles at home, at work, and in the community.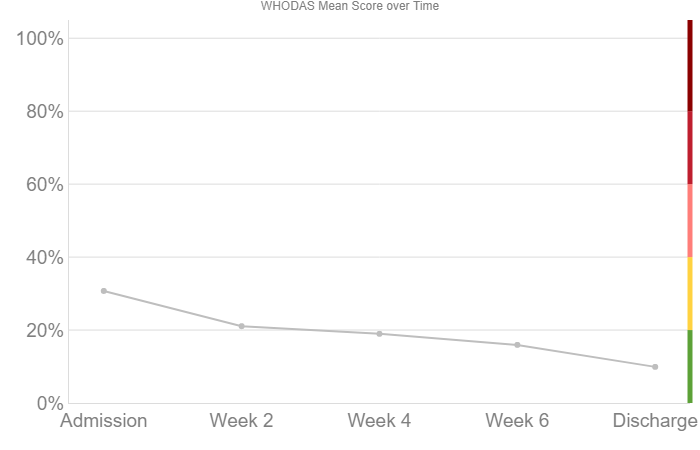 100% of residents reported impaired health and ability upon admission. At the time of discharge, 94% of residents at The Retreat reported clinical improvement in their ability to engage in life's daily activities.