Our Frederick Turkey Trot is going virtual for 2020!
Kick off Thanksgiving weekend by joining us virtually for our 18th annual Frederick Turkey Trot. This year, we are hosting a virtual 5K run and 1-mile fun run/walk to ensure the health and safety of all participants. You can join us from any neighborhood, in any city, and complete the race on your schedule.
The race will "start" at 12:01 a.m. on Thursday, November 26 and "end" on Sunday, November 29 at 11:59 p.m. And while it will be a lot of fun to have as many turkeys as possible trotting on Thanksgiving morning, this will allow you to complete the race on your schedule.
Sheppard Pratt touches the lives of more than 80,000 individuals each year in more than 160 programs across Maryland—including inpatient and outpatient treatment, housing, education, job training and rehabilitation services among many others—inspiring hope and helping people live their fullest, most satisfying lives. Proceeds from the race support care for the people who turn to us for help.
Register now! Race t-shirts can be included for the 5K run for an additional $5 fee. All participants will receive a digital bib and certificate electronically as there will be no packet pickup this year!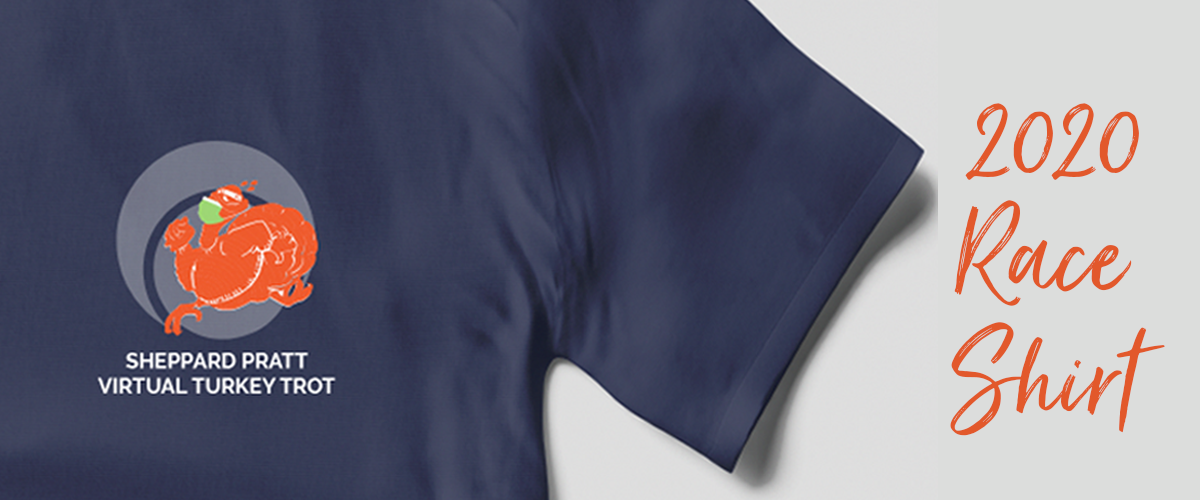 Registration Fees
5K Run
September 1 - October 15
$20 for all (+$5 additional for race shirt and shipping option)
October 16 - November 21*
$25 adults (+$5 additional for race shirt and shipping option)
$20 kids 17 and under (+$5 additional for race shirt and shipping option)
November 22 - November 25
$30 adults
$25 kids 17 and under
1-Mile Fun Run/Walk
September 1 - November 25
$10 for all (no shirt option)
*Participants of the 5K must register by November 6 to purchase and receive a race shirt. Participants can still register after November 6, but race shirts will not be available.
The best part of a virtual race? You can run anywhere—your neighborhood, a trail, your treadmill, etc. All participants will be provided with access to RaceJoy, an interactive race app that delivers real-time performance information, allows your family and friends to virtually cheer you on as well as submit race results. You may also use your own GPS or other method to track your time.
If you use the RaceJoy app, your results will be automatically submitted after you run. Otherwise, to submit results from another GPS tracking app or device, you will need to "opt-in" to receive either text or email notifications when you register. This will be the first step to be able to submit your time, after you complete your race, to get your results published. Results will be displayed as "overall" and "age group." You must run your race during the scheduled time period for consideration in the results. Runs completed outside of this window will not be included. As there is no way to ensure accuracy or a fair comparison of times submitted, the results are for bragging rights only!  
As we go virtual this year, we'd like to invite you to have friends and family members join you as you Trot! Friends and family from anywhere in the United States can join your team on your virtual 5K or 1-mile fun run/walk. Decide on a creative team name and enter it at registration. We'll be watching closely and recognizing some of our trotters in the following categories:
Team with Most Members
Team with Most States Represented
Top Team Fundraiser
If you've already registered without a team but would still like to join or create one, you can! Use your race registration confirmation email from Run Signup to open up your registration and make team edits. 
View Results from Past Turkey Trots