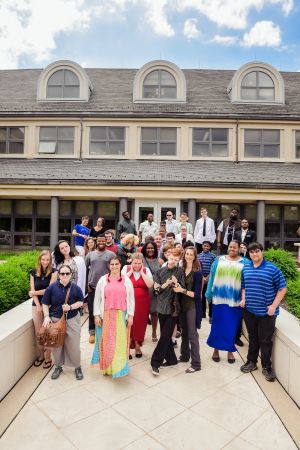 Dear graduates:
This June, we have more than 65 graduates from nine schools; I am so very proud of each and every one of you. Congratulations to our incredible graduates from The Forbush School at Glyndon, The Forbush School at Glyndon - Hannah More, The Forbush School at Hunt Valley, The Forbush School at Oakmont Upper, The Forbush School at Prince George's County, The Frost School, The Jefferson School and Residential Treatment Center, The Jefferson School at Finan, and The Berkeley and Eleanor Mann School and Residential Treatment Center.
Graduating high school means that you have all made it to the end of an incredible journey. A journey that was probably challenging in many different ways, but hopefully rewarding too.
Having the perseverance to make it to this phase in your life speaks volumes about the type of person you are, and the type of person you will become.
It means you sat and learned for countless hours in classrooms, maybe sometimes wondering why you had to learn algebra, or about the Constitution, or the periodic table of elements.
It means you had the courage to face issues that might have been holding you back at home, at school, or in the community.
It means you've learned how to make new friends, how to be a better communicator, and how to be a responsible adult in the community.
But most importantly, it means you are well on your way to conquering all of these things. Of course, no one is perfect, and the truth is you will be working on these skills for the rest of your life. However, I know that every one of you continues to better yourself each and every day.
This June, you leave each of your schools a wiser and more compassionate young adult, ready to face new and different challenges. I am confident that all of you are poised to do great things in this next chapter of your lives. Congratulations to the class of 2018!
---
Chip Maust, Ed.D., is the Director of Day Schools at Sheppard Pratt Health System, the largest provider of non-public special education programming in the state of Maryland. He leads a team of hundreds of educators in providing compassionate, nurturing care and individualized attention to children with autism, emotional disabilities, and behavioral disorders, helping them transition into the community and lead successful lives. Dr. Maust has a demonstrated history of working in the education management industry, and has specialized expertise in the fields of school mental health and special education.