Summer camp. For many parents, the thought of summer camp brings back great memories of color wars, swimming, friendships, and sing-alongs on the bus. Parents want to send their children to summer camp so they can experience the wonders of camp, create great memories, and gain independence.
Today, it can be overwhelming to choose a camp. There are day camps, sleepaway camps, and specialty camps for almost every interest—art, music, robotics, basketball. Anything your child may like to do, there is probably a camp specializing in that activity.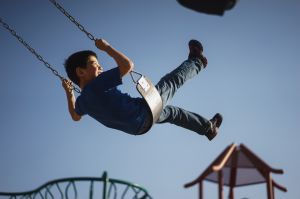 But, what happens when the decision to pick a camp is trickier because your child has autism and needs some extra support? You want to make sure that the camp your child is attending will be fun and rewarding, as well as nurturing and appropriate for your child based on their level of need. There are many camps that focus on providing safe and engaging environments for children with disabilities; some programs are even specifically designed for children with autism. So what is the best option for your child?
There are many considerations that go into choosing a camp for a child with autism or special needs. Before choosing a camp, you first need to decide a few things. The main questions to ask yourself are:
What do you want your child to get out of camp?
Do you want your child to go to a 'mainstream' camp or a camp for children with special needs?
What do you want your child to get out of camp? Before choosing a camp, it is important to make sure you know why you want to send your child to camp. Do you need somewhere for your child to go during the summer? Do you want your child to improve their social skills and gain independent living skills? Or, is camp simply a place to swim, do arts and crafts, and have fun? Are you looking for overnight camp or day camp? The choices are endless and can be overwhelming. It is a good idea to think about why you are looking at camp before you get started with making a selection.
Do you want a mainstream camp or a special needs camp? The answer to this question may depend on the support your child requires or the experience you want them to have. Ask yourself these questions:
Do you want your child to be among typical peers? If you do and you feel like they will be comfortable and able to participate in activities with limited support, a mainstream camp may be ideal for your child. Many mainstream camps may offer accommodations, aides, or special programs.
Does your child need a lot of support with activities, personal care, and social skills? If so, a specially designed camp may be right for your child.
There are pros and cons for both, and only you can decide what is right for your child. But no matter what type of camp you choose, be sure to address whether the camp is equipped to meet your child's needs. Even a camp for children with disabilities may not be appropriately equipped to handle your child's specific needs.
Once you have decided what type of camp your child will attend, it is time to find that perfect camp.
How do you find the perfect camp for your child?
Research. There is plenty of information available on the Internet. For example, Verywell.com has created a directory for camps geared towards children with Autism Spectrum Disorder. In addition to Internet research, ask your friends, local parenting groups, local professionals, and schools if they recommend any camps in your area. There are camp fairs you can attend in many areas as well. Getting personal recommendations is also a great way to find a camp.
Then, once you have some names of camps that look promising, try and attend Open Houses to see the facilities and meet the staff. An Open House can also be a chance to meet other campers and ask them about their experiences. If you are unable to attend an open house, you can ask for references.
Communicate. Every child is unique and has their own set of strengths and challenges. Discuss specifics about your child with the camp director and staff, whether it is a mainstream camp or a camp designed for children with disabilities. Ensure that the camp is equipped with knowledge about your child—what they enjoy, their triggers, and what accommodations might be helpful. Open and honest communication is key. You want to make sure that the camp you choose is ready to handle anything that could happen. Camp directors may think they have seen everything, but you know your child best and should discuss all possibilities.
Make sure the staff is well trained. People make all the difference, and the people who will be caring for your child truly matter. From the staff-to-camper ratio to background checks, training, personalities, and type of staff on board, every detail is important, and you will want to take all of this into account when choosing a camp. If your child needs support, you will want a low camper-to-staff ratio. The staff should be trained to work with children with special needs, and have training related to your child's diagnosis. You'll also want to ensure there is adequate medical staff onsite. Furthermore, if the goal is social skills or independence, you may want to know if the camp has social workers or psychologists as on the team.
Don't give up if it doesn't work out. Camp is supposed to be fun. If your child does not have the time of his or her life, it is ok. You can always try again!
---
Jim Truscello is the director of day school programs at Sheppard Pratt Health System.