Hope. It is what any individual who is experiencing a mental health challenge aims to find. On the darkest days, finding hope may seem impossible. On those same days, it also happens to be one of the most important things to feel. Hope is the key to seeing beyond today's problem, obstacle, fear, or unknown. It is a want, desire, or vision deemed possible and worth working toward. It unlocks a sense of optimism and promise. It is the belief and motivation to change things for the better, and that the pathway to achieving a better life is within reach.
Since our founding in 1853, Sheppard Pratt has made it a clear priority to provide hope to our patients, students, and clients. Hope can be found in the nearly 400 sites of services and across 160 programs throughout Maryland and West Virginia where we operate. It can be found in the people who work for our organization and who are committed to instilling hope in every person in need of our care and services. Our people put their hearts and souls into building and creating access to comprehensive services and innovative programs that best serve our community. And they are committed to delivering personalized care and services every day. Hope is here—within our walls and our people, and it's palpable in the care we provide.
This year's annual report highlights new programs and services and celebrates a few of Sheppard Pratt's people who are committed to the communities we serve. One of our most significant milestones was accomplished this year with the opening of our brand-new hospital in Howard County, a project that was first envisioned more than 10 years ago and literally transforms the national landscape of mental health care. Sheppard Pratt visionaries and leaders have implemented new approaches to delivering our services and to advancing best practices in the field. Our tremendous progress underscores the value, meaning, and realism of this year's theme, which is even more true in 2021: Hope is here, and it's stronger than ever.
A Message From Our Board Chair and President
Dear Friends and Colleagues,
The last two years have been some of the most challenging for our nation and world. People have struggled as a result of the pandemic, racial injustices, and the day-to-day uncertainty in our lives. Suicide rates continue to be at an all-time high, with an alarming trend among young people. Drug overdose deaths soared to a record 93,000 last year, an increase of nearly 30%. Social isolation and lack of accessible care has led to increased rates of anxiety and depression.
As we look toward recovery and our new normal as we navigate the effects of COVID-19, we need to prepare for the mental health crisis that is barreling toward us like a tidal wave.
Leading the way to meet unmet needs is in Sheppard Pratt's DNA. Our mission has always been about helping people in need, when they need it the most.
However, we are not only meeting a need, we are determined to do more. Sheppard Pratt is a shining example of what a true system of care is and can do. We have accomplished so much in a challenging year and have made the impossible truly possible, day in and day out, to help the most vulnerable in our region. When we look at all that has been accomplished, we can say with confidence: Hope is here.
From our humble beginnings as a single hospital in Towson, our reach now extends beyond a statewide presence to provide the services and resources that are needed to make a difference in people's lives. We serve more than 70,000 individuals in more than 160 programs across Maryland and West Virginia, including inpatient and outpatient treatment, housing, education, job training and rehabilitation services, and many others.
This year, we ushered in a new chapter in our journey, meeting even more needs across our community with the opening of our Sheppard Pratt – Baltimore/Washington Campus. In this year's report, you will read more about our new destination for behavioral health care, which allows for the expansion of programs and services to provide greater access to high-quality, compassionate care. You'll learn more about the much-needed mental health support and services we are providing to youth in schools. You will read about our new Opioid Treatment Program and hub-and-spoke model that is an innovative approach to addiction treatment and mental health care. And speaking of innovation, you will hear more about our global Center of Excellence for psilocybin research and therapy. As our region continues to experience mental health crises, you'll learn more about our crisis services. You'll also find out how we are partnering with hospitals and health systems across the country to set up and deliver behavioral health solutions to impact communities everywhere.
We also started a bold $50 million campaign during the pandemic, and have already raised nearly $40 million to change the face of mental health. These are just some of the ambitious steps in a number of key initiatives that we are undertaking in our journey to meet the demands for our care and services.
Sheppard Pratt is committed to serving more people and creating a brighter future. Hope is here.
Sincerely,
Joshua Kakel | Chair, Sheppard Pratt Board of Trustees
Harsh K. Trivedi, MD, MBA | President and CEO, Sheppard Pratt
Delivering on our promise to provide life-changing care and inspiring hope in the communities we serve.
#1 private, nonprofit provider of psychiatric services in the nation
Consistently ranked in the top 10 psychiatric hospitals in the nation by U.S. News & World Report
programs throughout Maryland and West Virginia
Serving patients from 34 states & 15 countries
Largest provider of nonpublic special education programming in Maryland
A New Destination for Mental Healthcare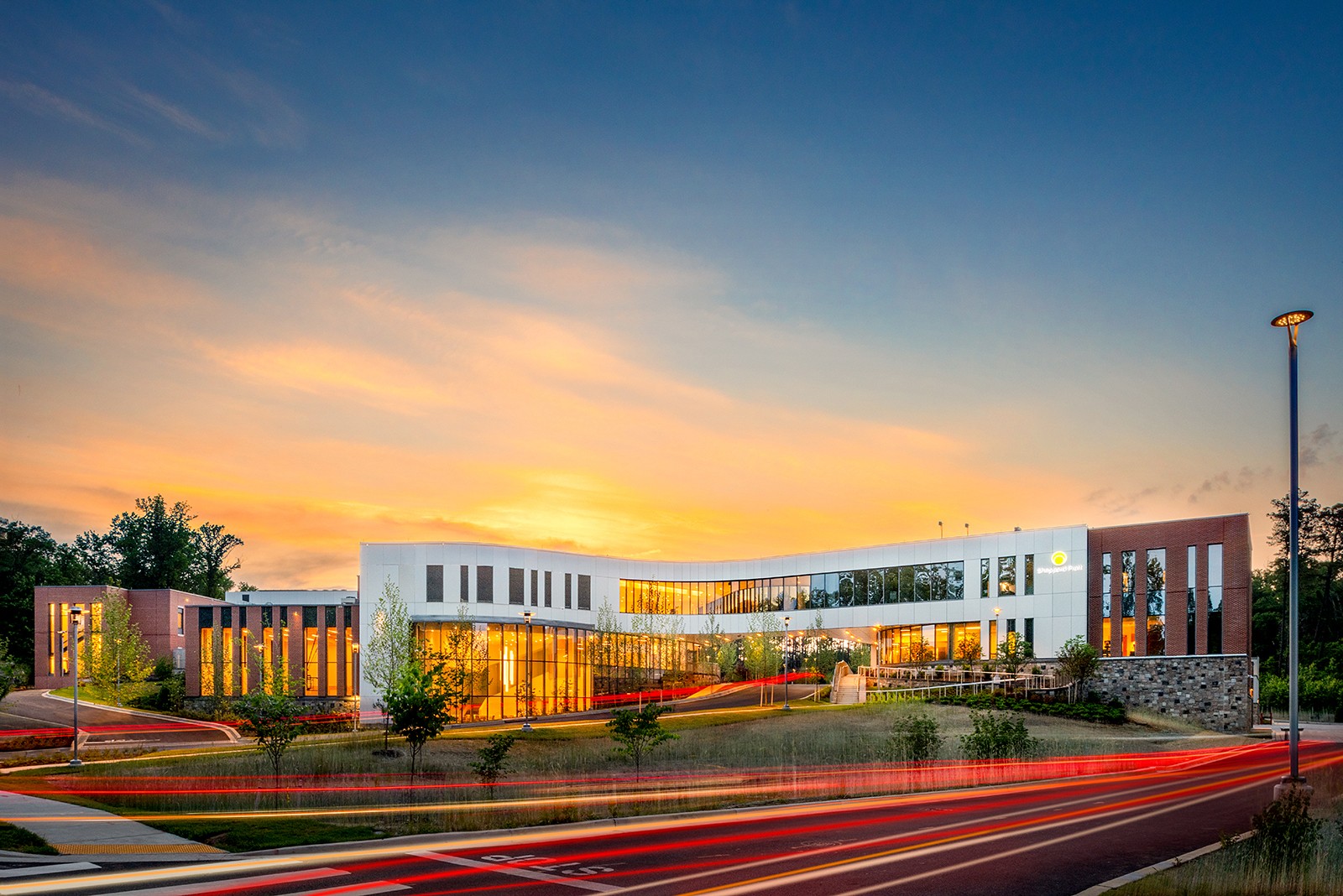 Ten years ago, Sheppard Pratt invested in a 50-acre piece of property with a vision to build and open a new "destination" for comprehensive mental health care services in the Baltimore/Washington region. It would be a warm and welcoming place, thoughtfully designed to provide the care you would expect for your own loved one and offering the totality of cutting-edge treatments to yield the best outcomes.
That vision became a reality in June 2021 when Sheppard Pratt marked a monumental milestone in its centuries-spanning history with the opening of its Baltimore/Washington Campus. The brand-new, 156,000-square-foot, state-of-the-art hospital has 85 inpatient beds, Psychiatric Urgent Care, and many specialized outpatient programs.
"One of the things we know about mental illness is that many wait until they are in crisis to seek help," said Greg Gattman, FACHE, vice president and chief operating officer of Sheppard Pratt hospitals. "We believe our Baltimore/Washington Campus can change that. This new facility was built with intention. It encourages people to reach out for the help they need before they are in crisis. It's a beautiful, inviting space, positioned in an easily accessible location."
Baltimore/Washington Campus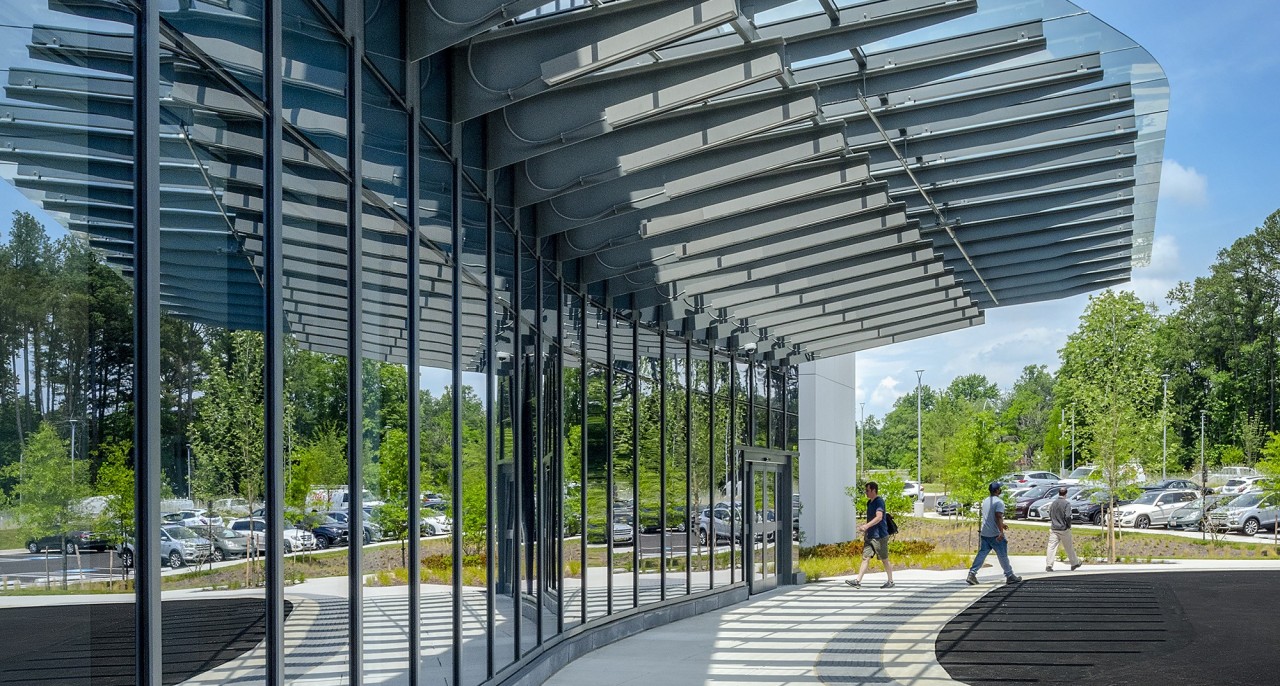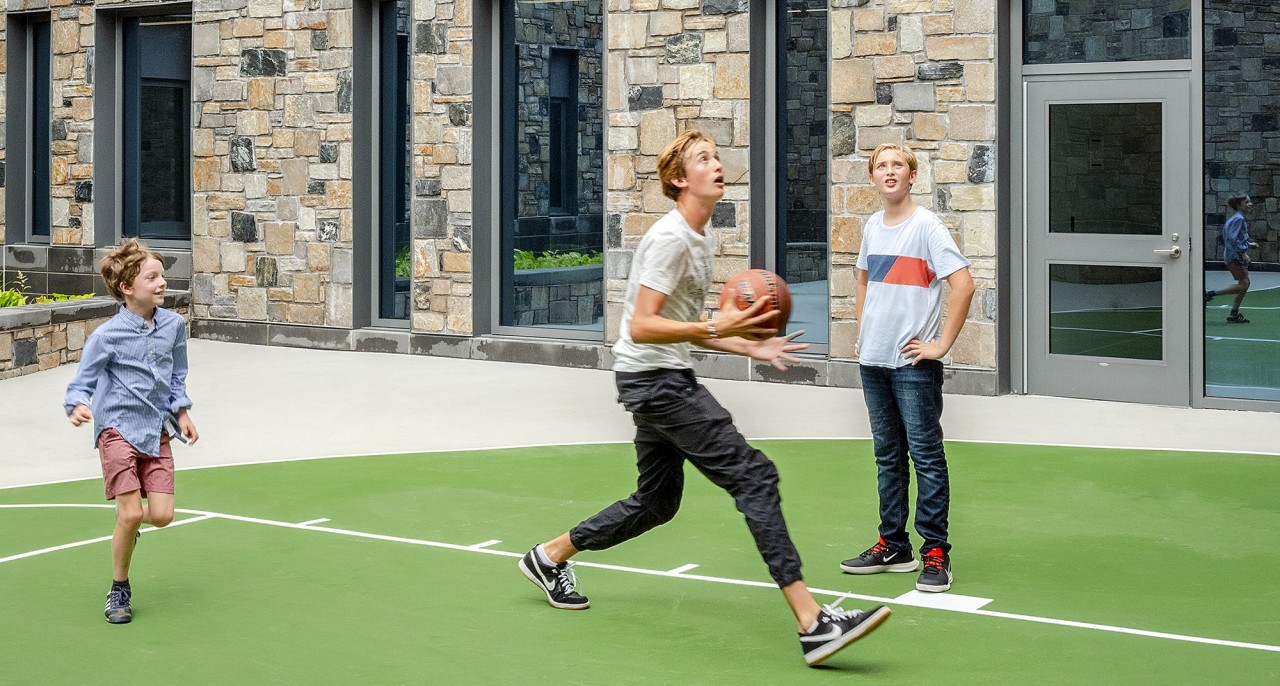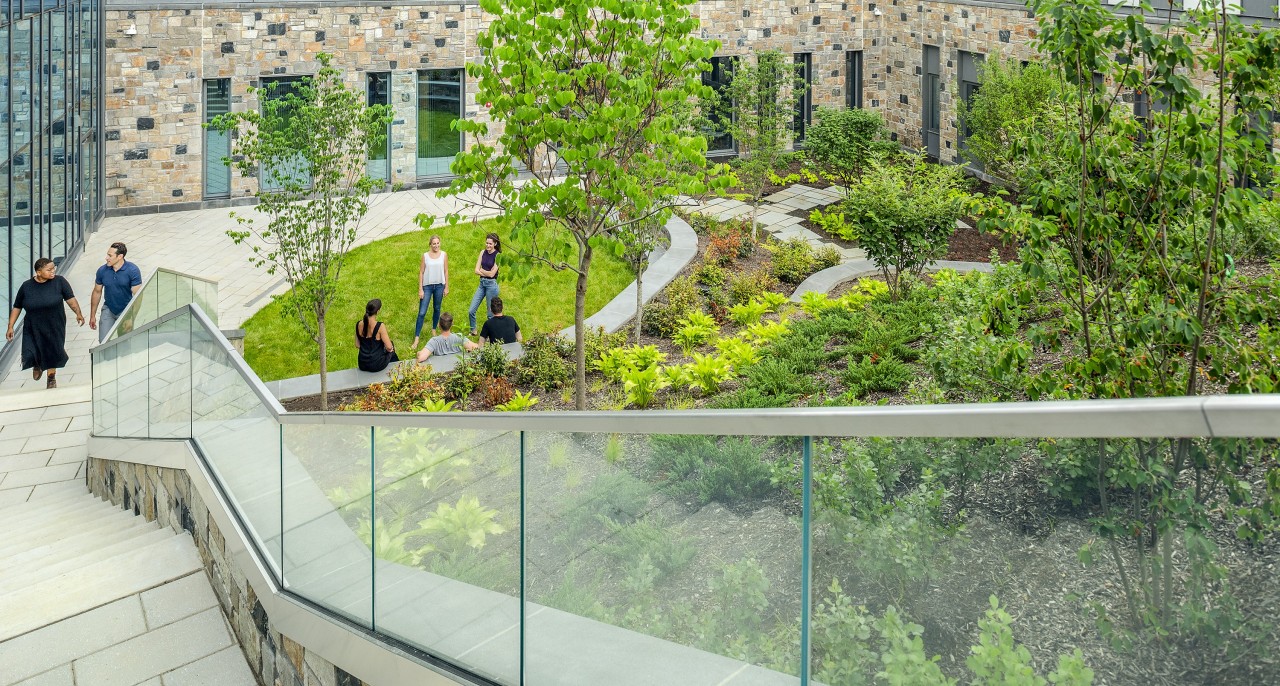 The new location allows for the expansion of programs and services to provide greater access to high-quality, compassionate care to serve more people. Among the new programs and services—a Psychiatric Urgent Care, to provide urgent assessments and triage to appropriate care for individuals experiencing mental health and/or addiction crises. This expands the urgent care services currently offered at Sheppard Pratt's Psychiatric Urgent Care in Towson, Maryland, and addresses the growing need in the Baltimore/Washington corridor.
Those requiring inpatient care are referred to one of five patient care units, including the addition of a new young adult unit. People are treated on patient care units based on their age or scope of clinical need, including adolescents; young adults, ranging in age from 18 to 30; the general adult population; those with thought disorders; and those with multiple (co-occurring) psychiatric and substance use disorders.
"Every unit was designed to optimize patient experience and outcomes, starting with how we make people feel from the moment they walk through our doors," said Todd Peters, MD, vice president and chief medical officer. "We want the space to feel inviting and be restorative. We want those who turn to us for help to feel cared for while learning skills to help them succeed long term."
Each inpatient unit features many windows to allow warm, natural light into the space, along with views of a centralized courtyard. Additionally, the hospital houses a gymnasium, three basketball courts, and a multipurpose room for various fitness and social activities. Thoughtful design decisions were made to maximize aesthetics and safety, in tandem. Automatic water faucets, angled edges in front of windows, high ceilings, and heavy, yet soft, furniture give the hospital a sleek and modern feel while avoiding use of items that patients could potentially use to harm themselves or others. And, unlike what may be found in other behavioral health facilities, nursing stations on each inpatient unit are intentionally open; no walls or barriers are in place to block patients from their care providers.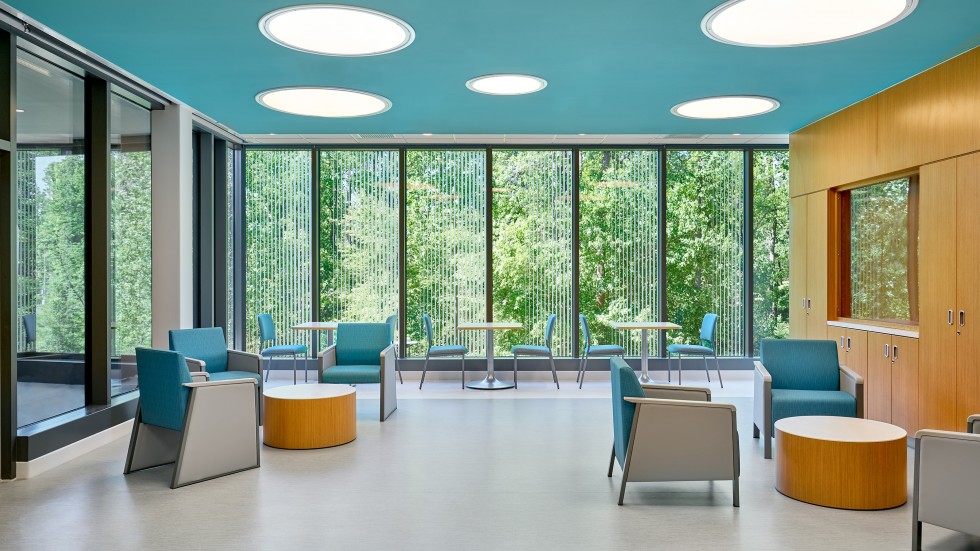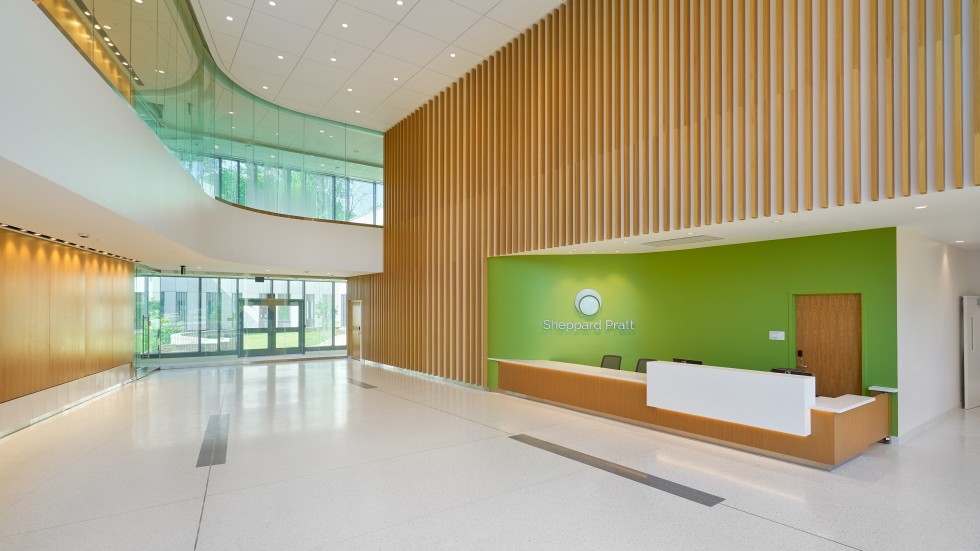 "Open workstations set a very different tone in the patient care environment; they show patients who are suffering from mental health problems that their providers are approachable and want to hear from them," said Dr. Peters.
The opening of the new hospital has also allowed Sheppard Pratt to greatly expand its specialized outpatient programs in Howard County. The Adult Day Hospital originally offered at the Ellicott City location transitioned to the new hospital and adopted a new name: Mood Disorders. Other outpatient programs for targeted populations and disorders include thought disorders, children and adolescents, and eating disorders. These specialized outpatient programs center around comprehensive individual and group therapy, without the need for overnight hospitalization. They can be facilitated as a stepdown option from inpatient care, or a step-up option for those who require more intensive outpatient intervention. The new campus also offers electroconvulsive therapy (ECT) for inpatients and outpatients, improving access to this important treatment option.
"The opening of our new hospital and the availability of these valuable services in the Baltimore/Washington region honestly could not have come at a better time," said Gattman. "The world is beginning to think about life beyond COVID, but mental health issues realized during the pandemic are long-lasting. The number of people who need our services is greater now than ever before and will continue to rise as we move forward."
A Space for Innovative Care
A 2021 report from the Centers for Disease Control and Prevention estimated that more than 93,000 Americans died from a drug overdose in 2020, a nearly 30% increase from the year prior, with opioids significantly contributing to the rise in deaths.
While national and local efforts continue to be made to stop the worsening epidemic, Sheppard Pratt has taken a big step forward in this arena with the opening of its Opioid Treatment Program, a new layer within the organization's Partners in Recovery Program. The new program opened on Sheppard Pratt's campus in summer 2021. It is a renovated space, packed with innovative technology and designed with patient safety and privacy needs in mind. And, the goal is to clinically address opioid misuse, overuse, and overdose, as a way of saving lives.
"Sheppard Pratt touches thousands of people across our continuum of mental health services and our data shows that about one third of them have a substance use concern, often in the mix as a co-occurring issue," said Jason Martin, PsyD, who serves as director of addiction services at Sheppard Pratt. "Substance use often begins as a coping mechanism—to minimize emotional or physical pain—and then can quickly become a substance abuse situation. We have a responsibility to deliver holistic care for our patients and to address this problem for our society as a whole."
One guiding principle within the Opioid Treatment Program is acknowledgement that both reduction and elimination of problematic opioid use can be deemed successful. The integrated team of addiction medicine psychiatrists, nurses, substance abuse counselors, and social workers emphasize that abstinence is the ideal end goal for every patient, but at the same time, small, gradual changes are also noted as big steps in the right direction.
"We try to reason with our patients; to understand their feelings and perspectives by asking a lot of questions, listening, and being empathetic to what they are going through," explained Jeff Richardson, LCSW-C, MBA, vice president and chief operating officer of community services. "We engage them in conversations about why they use and what might convince them to make a change, even if that simply means eliminating one drug or cutting back on their frequency of use. This takes some people by surprise. They come in expecting us to push them to quit using completely, with no exceptions, and that is not always the best approach."
As a first step, those who turn to the clinic undergo a comprehensive assessment with a clinical provider, who develops a recommendation on the patient's most appropriate level of intervention. In most cases, the proposed plan of care includes a combination of outpatient therapy or partial hospitalization, and a supervised medication schedule, designed to effectively manage and minimize symptoms of withdrawal. Many patients also interact with peer support specialists—former substance users who understand patient needs from a personal perspective, and who offer inspiration and hope by sharing their own stories of recovery.
"Our peer support specialists allow patients to see that substance use issues impact everyday kind of people in our world; people who are parents and grandparents, who have jobs and kind souls, and who are just like them, in many ways," said Dr. Martin. "Their stories are real and they share their lived experience, which demonstrates that even under the toughest of circumstances, change is possible."
The Opioid Treatment Program is managed using a novel hub-and-spoke model, which begins care at Sheppard Pratt's Towson campus for initial intervention, and seamlessly transitions them to care sites closer to their home community so they can thrive for the long term.
"The spokes are a critically important consultative piece, with the top priority being to keep patients stabilized and out of the hospital," said Dr. Martin. "This model will continue to position Sheppard Pratt as the provider of choice for mental health services, and specifically for those who need substance use treatment."
The launch of the Opioid Treatment Program and its hub-and-spoke network was supported in part by grant funding from the Maryland Opioid Operational Command Center. and Baltimore County Maryland ranked third in the U.S. in overall drug overdose deaths in 2018, and 90% of those were opioid related.
"Giving people a place to turn for help was our first priority," said Richardson. "Educating them on substance use, its impact, and resources available, is another. It's especially important in light of the COVID pandemic and the many ways it has exacerbated the need for behavioral health care."
The new opioid treatment program provides urgent assessments, integrated mental health and substance use care, methadone treatment, and case management services through a multidisciplinary team.
Sheppard Pratt's hub-and-spoke Opioid Treatment Program is designed to increase access to care in Baltimore County.
Prioritizing Patient Care
Crisis services: It's what sets Sheppard Pratt apart. From Psychiatric Urgent Care to residential crisis beds to mobile crisis programs, these timely and critical services position the organization as a pioneer in the delivery of comprehensive, patient-centric care options.
Cultivating a Home-like Environment for Intense Psychiatric Care
Sheppard Pratt operates five residential crisis homes across Maryland, making it the largest provider of residential crisis services in the state. Within each, intense, around-the-clock psychiatric care is available in a comfortable, home-like setting for patients diagnosed with a range of mental illnesses. Collectively, Sheppard Pratt's residential crisis services are diverting hospital admissions, reducing the length of stay in hospital care, providing a step-down option for patients ready for discharge from a hospital setting, and creating more positive and fulfilling experiences for patients experiencing mental health crises.
"We have created environments that allow the individuals we serve to continue living and connecting with others as they are undergoing treatment," said Susan Cromwell, senior director of rehabilitation and recovery at Sheppard Pratt. Residential crisis services allow people to work through their crisis and maintain their connections to family and work.
The average length of stay for individuals served in a residential crisis home is 14 days. During this time, individuals take prescribed medications with oversight by psychiatrists and nurse practitioners and coaching by residential crisis counselors. Through group and individual therapy, there is a focus on skill development and goal setting. In addition to restoring pre-crisis level of functioning, patients develop new strategies to prevent future mental health crises. A key component to ensuring long-term success occurs through building meaningful connections by participating in meal preparations and social activities. Family visitation is encouraged during the evening hours, which also aids to heal frayed relationships from past crises.
Sheppard Pratt's residential crisis homes are located in Baltimore County, Frederick County, Howard County, and most recently, a new crisis home located in Montgomery County. Developed in partnership with all six community hospitals in Montgomery County, this 16-bed residential home will transition individuals from emergency departments and inpatient units of those hospitals. The unique collaboration highlights an innovation in residential crisis care management that embeds residential crisis staff in the participating hospitals to assess individuals for eligibility, streamline the referral process, and transport them to the residential crisis home.
Mobile Crisis Services Offered in Frederick County
This year Sheppard Pratt expanded its mobile crisis services within Frederick County, including an innovative partnership with the city's emergency responders. In addition to increasing access to mobile crisis services from 40 hours per week to 24/7, this partnership launched the Crisis Response Team pilot program, which pairs Sheppard Pratt counselors trained to mediate and manage crisis events with non-uniformed police officers and EMS providers to respond to mental health emergencies across the City of Frederick. The counselors assist with deescalation and stabilization, plus identify short- and long-term options for care. Sometimes, the call for help comes from the person who is in crisis; in most cases, it comes from a family member, friend, human service agency, or private citizen who has witnessed a situation that might benefit from intervention by trained mental health professionals.
"This program allows us to respond in a way that recognizes mental health crises as a health concern," said Scott Rose, chief of rehabilitation and recovery for Sheppard Pratt. "Our job is to react in the moment but also assure the person knows where to turn for help beyond that moment."
Pioneering Evidence-Based Psilocybin Therapeutic Treatment
"Every day at Sheppard Pratt we are looking at mental illness in different ways to achieve improved outcomes," said Scott Aaronson, MD, chief science officer, Institute for Advanced Diagnostics and Therapeutics. Dr.  Aaronson is a world-renowed leader in mental health care research and has played a key role in advancing treatment protocols and developing innovative treatment. Under his leadership, Sheppard Pratt will launch the Center of Excellence for Psilocybin Research and Treatment that will merge science, research, technology, and innovative design to investigate the impact of psilocybin therapy and psychedelic medication regimens. The center will open during fiscal year 2022 on Sheppard Pratt's Towson campus, in partnership with COMPASS Pathways plc, an international mental health care company recognized as a pioneer in the development of evidence-based therapeutic treatments.
"The new Center of Excellence will showcase 'the clinic of the future' and integrate many of our existing and future clinical priorities," said Dr. Aaronson, a psychiatrist for more than 40 years. "It will give researchers a new platform to engage with Sheppard Pratt as we build care models for the future."
Sheppard Pratt was one of just a few sites across the United States invited to participate in COMPASS' phase 2 psilocybin research trial. Its COMP360 psilocybin therapy, administered in tandem with psychological support from specially trained therapists, has the potential to transform the way behavioral health providers treat patients with bipolar disorder, depression with chronic suicidal ideation, post-traumatic stress disorder (PTSD), and obsessive-compulsive disorder, among others. Initial investigator-initiated studies, by Dr. Aaronson and his team over the past two years, have produced promising—sometimes even breathtaking— results. One specific patient, diagnosed with bipolar disorder, exemplified what is in the realm of possible.
"Psychedelics administered over a period of nine hours, following an extensive preparation process, had a profound impact on the patient, who was struggling greatly, unemployed, and self-medicating in order to function," Dr. Aaronson said. "It made what once felt like a 10-foot hurdle feel more like a 2-foot hurdle. The experience instilled acceptance of current reality, a positive change in outlook, and the emergence of a core belief that over time, things could get better. The impact was profound."
Sheppard Pratt is one of the first hospitals in the U.S. to conduct clinical studies in the use of psychedelic therapies for patients diagnosed with mood disorders. Research will also be conducted within our Center of Excellence to evaluate the use of psychedelics for treatment of depression, anxiety, addiction, and other mental illnesses. As the space is constructed, optimizing the patient experience will be integral to care design. The center will feature four private psychedelic therapy rooms, with garden views to create an environment of care that is welcoming and therapeutic for patients.
"Psychedelics offer a new approach that can be considered for the treatment of many mental illnesses," said Dr. Aaronson, citing PTSD, autism spectrum disorder, racial trauma, and eating disorders as additional examples. "I believe the Center of Excellence will be a unique and valuable resource for the Sheppard Pratt community as well as other health care organizations and providers across the state, regionally, and even nationally."
Education and training for behavioral health providers will be another key priority at the Center of Excellence once it opens. Providers and therapists will have opportunities to pursue certifications and build new skills as clinical trials, proof-of-concept studies, and digital patient care solutions are investigated and deployed. This, combined with the opportunity to assess mental illnesses and treatment options in new ways, with a focus on optimizing patient outcomes, is generating much excitement about what lies ahead at Sheppard Pratt.
"With great vision and continued investment, we have the potential to revolutionize treatment options and bring innovative solutions to patients," said Harsh K. Trivedi, MD, MBA, president and chief executive officer at Sheppard Pratt.
Accelerating Research & Improving Patient Experience
The Center of Excellence will model the "clinic of the future", working as a research facility and innovation lab.
Building Connections for Positive Outcomes
In today's world, especially in the midst of a pandemic, more children are benefitting from seeing a therapist. With a commitment to providing care and useful resources for students and their families, Prince George's County Public Schools launched its Youth First Care Program in partnership with Sheppard Pratt in 2020. The vision was to bring much-needed mental health support and services into schools—where kids could seek care in a space that is comfortable and familiar. When the program was introduced, Sheppard Pratt provided services in four Prince George's County schools. It has since expanded, and Sheppard Pratt now provides services in 30 elementary and middle schools across the county, more than any other partner.
"We take a very integrated approach, collaborating with teachers, administrators, case managers, individualized education plan (IEP) coordinators, and parents, to fully understand what is happening in a child's life that is causing them to struggle," said Liz Briganty, LCSW-C, Youth First Care Program director at Sheppard Pratt. "These perspectives are important as we build connections with the child, show them we are here to encourage and support them, and identify pathways for positive outcomes."
Children are referred to the Youth First Care Program when adults who care about their well-being see signs of trauma or grief, abuse or neglect, depression or anxiety, problems with school attendance or performance, bullying, aggressive behavioral issues, or substance use concerns. The process begins with parent notification and approval and is followed by a phase of discovery, allowing the therapist to observe the child in the classroom and join conversations with teachers. From there, the therapist will facilitate individualized therapy sessions with the child during the school day.
"Our goal is to help kids process their life experiences and give them guidance and tools to cope," said Karla Hoffman, chief of families and communities at Sheppard Pratt. "Sometimes we see great improvements quickly. In other cases, the impact is realized later. We are focused on helping the child to truly excel in the classroom or to handle a big life transition smoothly."
The 20 clinical therapists from Sheppard Pratt who facilitate the Youth First Care Program had to think creatively about how to deliver care in new ways, while public schools remained closed during the COVID-19 pandemic. As a team, they identified new ways to connect and create impact in Prince George's County schools—some of which they had never physically stepped foot into.
"If a door closed, our staff figured out how to get the job done," said Briganty. "They have done a phenomenal job connecting with students and families to assure this program would not only be sustained but also grow during the pandemic."
The value of that commitment has been made clear. Between August 2020 and July 2021, therapy was provided for 63 suicidal children across 23 Prince George's County schools.
"We are pioneering this program during the pandemic and it has presented a lot of challenges, but along with that, so much opportunity, too," said Hoffman. "It can literally change the way a child sees the world."
Integrating Behavioral Health: Sheppard Pratt Solutions
The need for behavioral health services is tremendous, and rapidly growing in light of the COVID-19 pandemic and the many ways it has impacted people's lives. In many communities, the availability of psychiatric providers capable of delivering comprehensive, high-quality, outcomes-based care at scale is extremely limited. People who need help don't know where to turn, or the needed services may not exist in their community. And, the impact of these scenarios on individuals, families, and communities is felt daily across the nation.
This year, Sheppard Pratt Solutions—a new division—was launched to support the increased demand for behavioral health services locally, regionally, and nationally. Its purpose is to facilitate the formation of partnerships with hospitals, health care systems, outpatient clinical practices, and other organizations to help establish and improve delivery of hospital and community-based behavioral health services in their community.
"Sheppard Pratt is recognized and respected as the national leader, with an unmatched breadth and depth of knowledge, clinical expertise, and resources in the behavioral health space," said Jennifer Wilkerson, vice president and chief strategy officer at Sheppard Pratt. "Sheppard Pratt Solutions allows us to stretch our services broader and deeper, working with partner organizations to make mental health services available in communities across the nation."
The scope of services provided by Sheppard Pratt Solutions includes consulting, management services, and development of new services or facilities. Partnerships can be consultative in nature, where the focus is on developing plans to build or enhance an organization's behavioral health services. Management services are best suited for those who have a behavioral health program in place, yet require executive and clinical leadership support to deliver and optimize it. And, development-based partnerships are designed to help organizations expand behavioral health services across a variety of care settings.
Luminis Health Anne Arundel Medical Center was one of the first to pursue a management-based contract with Sheppard Pratt Solutions. Driven by results from its community needs assessment, the organization invested in a 16-bed behavioral health hospital and then turned to Sheppard Pratt for leadership resources to manage it, along with its partial hospitalization and Pathways programs.
Other early adopters in Maryland include Garrett Regional Medical Center, with a focus on expanding telepsychiatry services in its emergency department, inpatient units, and behavioral health center, and CalvertHealth, whose leaders are committed to growing its behavioral health service line with a Sheppard Pratt-supported staffing model. Psychiatrists and nurse practitioners employed by Sheppard Pratt work collaboratively with CalvertHealth leaders to provide specialized mental health services in community-based settings. Greater Baltimore Medical Center (GBMC) has also partnered with Sheppard Pratt Solutions for collaborative care integration by embedding behavioral health services in its primary care practices.
"There are more Sheppard Pratt psychiatrists than some states have in total, and the depth of our behavioral health expertise is unparalleled," said Steve Merz, chief operating officer for Sheppard Pratt Solutions. "Sheppard Pratt Solutions is designed to provide an answer when the call comes in from health care leaders across the state, region, and nation who know they need to provide behavioral health care services for their community, but don't necessarily have access to the right resources or expertise to deliver it. We can fill that gap, with a shared commitment to adding or enhancing behavioral health services for the growing number of people out there who need them."
Sheppard Pratt Solutions is committed to building customized programs for each partner it works with, beginning with processes of discovery and alignment to understand its prospective partner's capabilities, needs, goals, and opportunities. The tremendous need for better behavioral health is evidenced by partners in 17 states, with more on the horizon.
"We are sometimes asked who else is 'like' Sheppard Pratt. And the answer is—no one," said Wilkerson. "Sheppard Pratt Solutions opens a door for us to join forces with organizations that share our mission, values, and goals, and expand access at a time when the need for behavioral health services is rapidly growing."
Behind the Scenes at Sheppard Pratt Solutions
Sheppard Pratt Solutions utilizes the extensive expertise of its mental health professionals to provide consulting, management services, and development-based partnerships.
Sheppard Pratt Solutions areas of expertise include hospital psychiatry, telehealth, crisis care, outpatient and community services, collaborative care, and more.
COVID-19 and the Path Forward
It's hard to imagine that COVID-19 is still as much a part of our daily lives as it was in 2020—when we thought 2021 would be moving toward reopening and recovery.
We have already begun to see the impact on mental health. And the pandemic has exacerbated the mental health crisis that already existed.
A study from the Kaiser Family Foundation found that 4 in 10 adults in the U.S. have reported increased symptoms of anxiety or depressive disorder during the pandemic and that many adults who reported worsened mental health due to the pandemic also put off getting treatment. A survey by Mental Health America found 54% of 11- to 17-year-olds reported frequent suicidal thoughts or self-harm in the prior two weeks, which is the highest rate since it began screening in 2014. And U.S. deaths from drug overdoses leapt nearly 30% to more than 93,000 in 2020—the highest ever recorded.
Yet, we know the numbers tell only part of the story.
"Sheppard Pratt has been integral to our nation's response to COVID-19 during the initial surge of cases, then the beginning of the recovery, and now again as the pandemic continues," said Harsh K. Trivedi, MD, MBA, president and CEO of Sheppard Pratt.
Throughout the past year, we responded to the increased need for access by implementing telepsychiatry across our network of programs and services. Our scale of growth and the ability to roll it out helped reduce health disparities in our communities for those struggling to access care. From April 2020 to June 2021, we provided more than 500,000 telehealth visits across all of our programs. We kept all 19 of Sheppard Pratt's inpatient units, totaling over 300 inpatient psychiatric beds, open and accepting admissions to reduce wait times for inpatient psychiatric beds. Our special education schools continuously pivoted to provide virtual and hybrid learning options to more than 700 students across the state—developing innovative and out-of-the-box ideas to ensure students received vital mental health and education services.
Employees in our community-based programs created care packages for students and took them for walks and bike rides to keep them active and engaged in their recovery efforts. Staff also delivered more than 300,000 meals and medications so our clients could continue to remain safe but receive the resources they needed.
In December 2020, we turned our conference center in Towson into a vaccine clinic for the next four months. We provided vaccinations to our eligible employees across the state, including our psychiatry residents/fellows, as well as vaccinating other behavioral health providers. We also created satellite clinics around the state in Frederick, Gaithersburg, White Marsh, and Baltimore to reach those for whom transportation was a barrier. We also vaccinated our clients who live in our behavioral health group homes.
"It was imperative that we prioritized vaccinating this high-risk population," said Dr. Trivedi. "We staunchly advocated to ensure those most vulnerable were eligible to receive the vaccine early in the state's tiered distribution plan."
As the uncertainty and anxiety with COVID-19 continues, Sheppard Pratt is here to support our communities as we find the path forward and play a role in the recovery of our communities.
As we navigated through the pandemic, the quality of our services to patients, students, families, and communities remained unchanged. We are proud that our ever-growing network of more than 160 high-quality programs now expand beyond Maryland to provide hope and meet the growing need for behavioral health services.
We are committed to providing a comprehensive continuum of care, from mental health, substance use, and special education to developmental disability and social services. The following map depicts the care and services offered throughout our organization.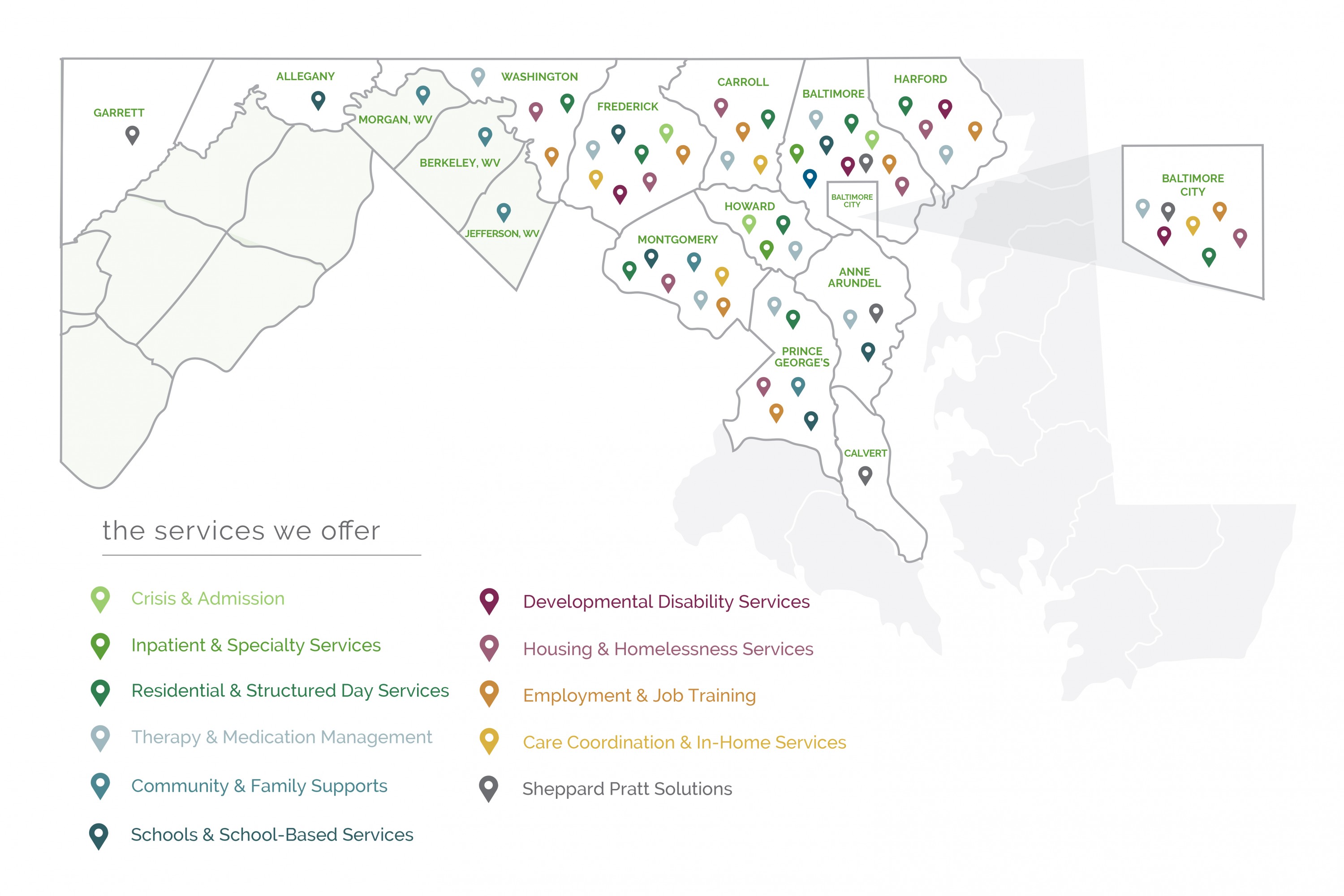 Statistics & Financial Highlights
Net Revenues (in millions of dollars)
FY '20: $374.2
FY '21: $365.0
Sheppard Pratt Statistics FY '21
Inpatient days: 95,491
Educational days: 126,060
therapy sessions provided for students in 230 schools throughout Maryland
days of high quality structured day programming and treatment provided
visits to our in-person and virtual Psychiatric Urgent Care and mobile crisis programs
telehealth visits were conducted across our networks
days of around-the-clock care and support in our residential programs
2021 Leadership & Board of Trustees
Officers and Executive Staff
Harsh K. Trivedi, MD, MBA
President and Chief Executive Officer
Gregory Gattman, FACHE
Vice President and Chief Operating Officer, Hospitals
Jeffrey Grossi, JD
Chief of Government Relations
Thomas D. Hess, MBA, MEd
Chief of Staff
Chip Maust, EdD
Vice President and Chief of Schools and Residential Treatment Centers
Todd Peters, MD
Vice President and Chief Medical Officer and Chief Medical Information Officer
Donna L. Richardson, MBA
Vice President and Chief Development Officer
Jeff Richardson, LCSW-C, MBA
Vice President and Chief Operating Officer, Community Services
Karen Robertson-Keck, SPHR, SHRM-SCP
Vice President, Human Resources
Kelly Savoca, CPA, MBA
Vice President and Chief Financial Officer
Laura Lawson Webb, MSN, RN-BC
Vice President and Chief Nursing Officer
Jennifer Weiss Wilkerson, MHSA, FACHE
Vice President and Chief Strategy Officer
Margaret Allen
Emile A. Bendit
Kevin M. Benson
Penelope Cordish
Alan Evans
Susan Fenimore
Elizabeth Forbush
Alan Gamse
Philip H. Grantham
William Haugh
Bonita Hearn
Joshua Kakel (Chair)
Norma Peden Killebrew
Martha Kirkland
Alton Knight
Robert Kresslein
Cristin C. Lambros
William Morton
Collin Mothupi (Vice-Chair)
Gail L. Shawe
Alfred Singer
John W. Steele, III
Jim Wiederhold
Stephen Judson Williams
Pamela P. Young
Peggy Sparr (Associate Trustee)
A Message From Development
Dear Friends,
At the June opening celebration of our new Baltimore/Washington campus, Sheppard Pratt President and CEO Dr. Harsh K. Trivedi announced The Campaign to Transform Mental Health Care, a $50 million fundraising effort that underscores our commitment to advancing mental health care.
The ambitious campaign supports projects like the new hospital, but more importantly, it is driving the development and expansion of programs and services in five key areas: expanding existing programs and services; recruiting and retaining the best behavioral health professionals; advancing research; promoting best practices; and leading the conversation about mental health internationally.
As of June 30, 2021, nearly $40 million has already been raised toward the goal. During FY '21 the following gifts and grants supported key objectives. Among the projects made possible with community support are:
Center for Autism

 – A major grant from the Women's Hospital Foundation funded the creation of a Center for Autism to diagnose and treat preschool-age children. Sheppard Pratt is one of the few autism programs nationally that treats autism patients from childhood well into adulthood.

Psychiatric Urgent Care

 – A grant from the Horizon Foundation, in partnership with the United Way of Central Maryland, and a grant from the France-Merrick Foundation funded the startup of the Psychiatric Urgent Care at the Sheppard Pratt – Baltimore/Washington Campus, providing same-day access to mental health care for people in crisis.

Opioid Treatment Program

 – We secured a grant to create a new opioid treatment clinic on Sheppard Pratt's Towson campus that will also serve as a hub of expertise for our other community-based addiction treatment programs in Baltimore, Maryland. The clinic will be an important tool in treating opioid addiction, which sadly claimed more lives in 2020 than ever before.

Institute for Advanced Diagnostics and Therapeutics

 – Sheppard Pratt is one of the nation's leading clinical research sites using psychedelics for treatment-resistant depression and other mental illnesses. Thanks to funding from corporations, foundations, and individuals, Sheppard Pratt is expanding its research and treatment capacity using these novel therapies.

Recognizing teaching excellence

 – Sheppard Pratt operates 12 special education schools, making it the largest provider of nonpublic special education in Maryland. To recognize teaching excellence, the Cordish Family Foundation created a fund to honor outstanding Sheppard Pratt teachers and to provide additional professional development opportunities for our schools. Two teachers were recognized for their efforts during a challenging 2020-2021 school year.
Thanks to the generous support of these individuals and organizations and so many others, Sheppard Pratt can proudly say that "hope is here." Thank you for your commitment to ensuring quality mental health care for everyone.
Sincerely,
Donna L. Richardson, Vice President and Chief Development Officer
Hope is Here, Thanks to You
It's no secret that the number of people in need of mental health care—locally, regionally, and nationally—is rapidly increasing. Sheppard Pratt, long recognized as a national leader in the delivery of comprehensive, outcomes-based behavioral health care, is committed to being a trusted resource for every person who walks through our doors. We are continuously evolving and growing our programs and services in alignment with what we know our patients need today—as well what we anticipate they will need tomorrow.
Our donors and partners play an instrumental role in our ability to provide care. With your partnership and support, we can continue providing hope and care that is life-changing and often lifesaving.
That is how hope is born. And that is why hope is here—to stay.
The 1853 Society recognizes individuals who have made the gift of a lifetime by including Sheppard Pratt in their estate plans.
Anonymous (3)
Andrew L. Austin*
Walter and Frederick W. Barbe
Emile A. Bendit, MD
Mikki Buchness
John and Sue Carnell*
Lois G. Carr*
The Estate of Patricia Castillo
Mary Lou Coder
Mr.* and Mrs. J. Howard Eager, III
Evelyn Feldman* and Mildred Kern*
Elizabeth R. Forbush
Anne Dee Goldin
Louise A. Hager*
Joan S. Harris
Charles E. "Ted" Herget, Jr.
H. Thomas Howell* and Aliceann Howell
George E. Kostritsky*
Jane Cox Larson
Peter J. Lagemann
June B. and Sung H. Lee
Janet E. Lowman
William and Marion Nicholson*
Parsons Newman*
Lila E. O'Meara
Patti Prugh
Jonas R. Rappeport
Ruth T. Ravenel*
Sally Rooney
Donald R. Ross, MD and Eileen K. Steinberger, MD
Marilyn and Robert Schaftel
Margaret and Steven Sharfstein
Dr. and Mrs. Edward Sienkilewski
Wilhelmina Hahn Waidner*
Jean and Gordon Wells & Family
Dr. and Mrs. Clifford R. Wheeless
Gay and Jud Williams
Mary Elizabeth Zumstein*
The Gatehouse Society recognizes those who have made contributions totaling $100,000 or more to Sheppard Pratt. Listed below are members through June 30, 2021.
$5,000,000 and above
The State of Maryland
U.S. Department of Veterans Affairs
The Harry & Jeanette Weinberg Foundation, Inc.
$1,000,000 - $4,999,999
Anonymous
Behavioral Health System Baltimore
CareFirst BlueCross BlueShield
Lois G. Carr*
COMPASS Pathfinder Limited
Department of Labor
Developmental Disabilities Administration
France-Merrick Foundation
Citizens of Howard County
Evelyn Feldman* and Mildred Kern*
Lagemann Family Trust
Maryland Community Health Resources Commission
Maryland Department of Health and Mental Hygiene
Montgomery County Department of Health & Human Services
Montgomery County Executive and County Council
Rollins-Luetkemeyer Foundation, Inc.
The Stanley Medical Research Institute
The Leonard and Helen R. Stulman Charitable Foundation
U.S. Department of Labor
Substance Abuse and Mental Health Services Administration (SAMSHA)
Supportive Services for Veteran Families
Jean and Gordon Wells & Family
The Whiting-Turner Contracting Co.
Women's Hospital Foundation
$750,000 - $999,999
The Horizon Foundation
Benno and Elayne Hurwitz Family Foundation, Inc.
The Lagemann Foundation
Earle & Annette Shawe Family Foundation
Gail and Stephen Shawe
Sheppard Pratt Auxiliary
$500,000 - $749,999
Abell Foundation
City of Gaithersburg
Dr. Penelope S. Cordish
The Cordish Family Foundation
Healthcare Initiative Foundation
The Kresge Foundation
Montgomery Coalition for Adult English Literacy
Parsons Newman*
Mr. and Mrs. William Nicholson*
Wilhelmina Hahn Waidner*
$250,000 - $499,999
Anonymous
The Kenneth S. Battye Charitable Trust
The Blaustein Philanthropic Group
The Jacob and Hilda Blaustein Foundation, Inc.
Alice D. Burke
Morris and Gwendolyn Cafritz Foundation
Ruth Corbett*
Dalio Family Foundation, Inc.
Department of Juvenile Services
Hal Donofrio
Frederick County Government
Greater Washington Community Foundation
Health Resources and Services Administration (HRSA)
Harley W. Howell Charitable Foundation
Kaiser Permanente of the Mid-Atlantic States Foundation
Pedie and Bob Killebrew
Henry H. Lewis Contractors, LLC
Maryland Opioid Operational Command Center
Maryland State Department of Education
Joseph & Harvey Meyerhoff Family Charitable Funds
Charles B. and Paula M. Moss Foundation
Morgan-Keller Construction
The Nicholson Foundation
SunTrust Charitable Irrevocable Trust
Taylor Foundation, Inc.
Truist Foundation
U.S. Department of Housing and Urban Development
U.S. DHHS Administration for Children and Families
Mary Elizabeth Zumstein*
$100,000 - $249,000
Anonymous (8)
William S. Abell Foundation
Allied Telephone and Data Corp.
ARAMARK Corporation
Bank of America Merrill Lynch
Mr. and Mrs. Edward H. Berge, Jr.
Morton K. & Jane Blaustein Foundation
Lois and Irving Blum Foundation
Brown Advisory
Lorraine* and Winfield Cain
Center for Eating Disorders, P.A.
Children's Opportunity Fund
Clark-Winchcole Foundation
Nancy B. and Howard K. Cohen
The Robert H. and Monica M. Cole Foundation
The Community Foundation in Montgomery County
Constellation Energy
The Charles Crane Family Foundation
Dr.* and Mrs. W. Byron Forbush, II
Andrew H. and Susan A. Friedman
GBMC HealthCare System
Dr.* Robert* and Mrs. Diane Gibson
Ernest Gutierrez, Jr.
Mrs. Lois Hammerman
Hannah More Foundation
Tim and Joyce Hearn
Heery International
Dale and Marie Hess
Hoffberger Foundation
Nancy Horst
Aliceann and Tom* Howell
Kaiser Permanente of the Mid-Atlantic States Foundation
The Marion I. & Henry J. Knott Foundation, Inc.
Zanvyl and Isabelle Krieger Fund
The Abraham & Ruth Krieger Family Foundation
Richard Kronheim*
Mrs. Donald S. Levinson*
Jack A. Luetkemeyer
The Louise D. and Morton J. Macks Family Foundation
Maryland Transit Administration
Mental Wellness Foundation
Middendorf Foundation, Inc.
The Mirmiran Foundation
Montgomery County Department of Health & Human Services (DHH)
Oakwood Construction Services, LLC
Lila E. O'Meara
Nancy B. Paternotte and William L. Paternotte
Ruth T. Ravenel*
RCM&D, Inc.
Marvin Schapiro Family Foundation
Drs. Margaret and Steven Sharfstein
Stone Family Fund
T. Rowe Price
Bruce T. Taylor, MD
Toys "R" Us Children's Fund
Jim and Carol Trawick Foundation
Verizon Foundation
Roger and Xandy Waesche
Philip Franklin Wagley, MD*
Mr. and Mrs. Andrew J. Walter & Family
Karen Wendell and Doyle Skeels
West Family Foundation
Gay and Jud Williams
The Thomas Wilson Sanitarium for Children of Baltimore City
Annual Giving Circle of Friends
Annual Giving Circle of Friends recognizes new pledges and gifts of $100 and above received between July 1, 2020 and June 30, 2021.
$10,000 and above
Anonymous (1)
Margaret Allen and Philip Perkins
American Endowment Foundation
Arbor Dog Foundation
Dawn Blessing
Bunting Family Foundation
Morris and Gwendolyn Cafritz Foundation
California Community Foundation
City of Gaithersburg
Robert H. and Monica M. Cole Foundation
COMPASS Pathfinder Limited
Emergent BioSolutions
Federal Communications Commission
France-Merrick Foundation
Frederick County Government
Andrew H. and Susan A. Friedman
Barbara and Alan Gamse
Greater Washington Community Foundation
Natural Concerns, Inc.
Healthcare Initiative Foundation
The Horizon Foundation
Howard County Government
Benno and Elayne Hurwitz Family Foundation, Inc.
Kaiser Permanente of the Mid-Atlantic States Foundation
Kassolis Family Foundation
Kettering Family Foundation
Pedie and Bob Killebrew
Maryland Department of Health and Mental Hygiene
Maryland Opioid Operational Command Center
Maryland Community Health Resources Commission
Maryland Affordable Housing Trust
Maryland State Department of Education
Mead Family Foundation
Montgomery Coalition for Adult English Literacy
Nancy B. Paternotte and William L. Paternotte
PNC Foundation
The Nora Roberts Foundation
Drs. Margaret and Steven Sharfstein
Gail and Stephen Shawe
Earle & Annette Shawe Family Foundation
Charles B. and Paula M. Moss Foundation
State of Maryland
Stone Family Fund
Substance Abuse and Mental Health Services Administration
Sylvan Laureate Foundation
Jim and Carol Trawick Foundation
U.S. Department of Veterans Affairs
U.S. Department of Housing and Urban Development
U.S. Department of Labor
U.S. Department of Health & Human Services Administration for Children and Families
Jean and Gordon Wells & Family
Women's Hospital Foundation
$5,000 and above
Mr. and Mrs. Edward H. Berge, Jr.
Josephine Burns
Community Foundation of Western Massachusetts
Cara Delevingne Foundation The Giving Back Fund
General Healthcare Resources, LLC
George E. Kostritsky*
KPMG, LLP
Cristin C. Lambros and Matt Levinger
Kim and Keith Lewis
National Capital Presbytery
NIHCM
Drew Pardoll
Treetops Charitable Trust
Z5 Inventory, Inc.
$2,500 and above
Eric Case
Mary Lou Clagett
Sam and Muffin Dell
Jessica Feinberg Twedt
Gaithersburg Rotary Foundation
Diane and Robert Gingell
The Kenneth L. Greif Foundation
Hometown Battles
Mr. Joshua Kakel
Mr. and Mrs. Andrew D. Levy
John and Elizabeth Miklos
Karen Robertson-Keck
The Kathy and Sandy Shapiro Family
St. Andrew's Christian Community
St. Mark Church
St. Peter's Catholic Church
$1,000 and above
Anonymous (2)
Bonnie and David Allan
Karen Allan Lankapalli
David and Deborah Astrove
Beth Babikow
Susan Basile and Edward M. Basile
Bendit Family Foundation
Boon Supply - Bonvee, Inc.
Michelle Brandenburg
Colleen Bullen and Richard Bullen
Mary Catherine Bunting
S. Winfield Cain
The Campbell Foundation, Inc.
Catonsville Women's Giving Circle
Centric Business Systems
Christ Church Prince Georges Parish
Christ Episcopal Church
Community Foundation of Western PA & Eastern OH
Walter & Sarah Diener Foundation
Enterprise Holdings Foundation
Alan Evans and Anita Langford
Nancy Gieser
Mr. and Mrs. Philip H. Grantham
Sarah Gunning Schell
Rose Hacking
Hall, Render, Killian, Heath & Lyman, P.A.
Frederic F. Hinze
Michael Johansen
Renee Knight and Alton Knight
Mary Denise and George Koch
Doris P. McIntire
Christine S. Miller and Jeremiah S. Miller
Donna L. Morris and Brook B. Morris
Jodi and Sam Moskowitz
Collin Mothupi
Mr. and Mrs. Luther Petry
PMM Companies
Rifkin Weiner Livingston, LLC
The Wilbur Family
Rossmoor Womans Club
Mary Catherine Savage
Goldwin I. Smith, Nancy Schiffer & Grant and Amelia Howerton
Jacob S. Shapiro Foundation, Jane and Stanley Rodbell & James R. Shapiro
Alfred and Lisa Singer
Claire M. Smith
Margaret Sparr
John and Peggy Steele
Mary L. Summerville and Donald C. Summerville; Kevin and Shelley Summerville
Taylor Foundation, Inc.
Margaret and Edward Trojan
Alan and Joanna Wallenstein
Gay and Jud Williams
A. A. Windesheim Charitable Foundation, Inc.
Xi Chapter of DKG MD
Pamela P. Young, PhD
$500 and above
Anonymous (4)
Dr. and Mrs. Scott T. Aaronson
All-Shred, Inc.
ATS Consultants
Amy Bachelder
Cady Bell
John Bendell
Donna A. Blanck and Ronald A. Blanck
Donald and Janet Boardman Family Fund
Susan and Robert Bodansky
Catherine R. Cecere and Fred A. Cecere
Christine Dinwoodie and John Dinwoodie
David Drake
Maria Fontaine & David Brlansky 
Frederick Foot & Ankle
Gaithersburg Presbyterian Church
Mr. and Mrs. Francis P. Galletti
Laura L. Gamble
Georgia Psychiatric Physicians Association
Nita and Henry Hartless
Bonnie Hearn
Holtzople Heating & Air Conditioning
Mr. and Mrs. Robert A. Lagas
Tracy L. Manubay
Mary C. Manubay
Eugenia Masland
Joseph McKinley
Dr. John A. Nesbitt, III
Offit Kurman, Attoneys at Law
PARPAC Charity Gift Program
LaTonya D. Shedrick
Sheppard Pratt Physicians, PA
Jennifer Smigal Insurance Agency, Inc.
St. John's Church, Norwood Parish
Saint Mark Presbyterian Church
Shelley Summerville and Kevin Summerville
Kelly Wenner and David Wenner
Robert Wieder
Kevin Wu
$100 and above
Anonymous (5)
Patricia Adams
Diane Ambur and Owen Ambur
Patti A. Arkuszeski
William J. Ault
Anne D. Bailliere
Baltimore Life Insurance Company
Crystal Barnes
William Bennett
Karen and George Benson
Bethel Sunday School
John P. Biggs
Lynn and Scott Birdsong
Mr. and Mrs. Gerald Blessing
Lisa Blue
James D. Blum
Kimberly and Thomas Bonvissuto
Tom Brendle
Jacquelyn F. Tate and Douglas M. Burch
Esteban Burgos
Joanne Canellos
Victoria L. Chaney
Ken Checkeye
Raymond Clevenger
Emma Collie
Community Science
Colleen Cornwell
Joseph Cox
Mary Dahlheimer
Andy and Dana Dalton
Dazz Technologies
Patty Dirla and Fred Dirla
Suzanne Duryea
Gerald Eichner
Paula Einaudi
Bernard and Ann Flynn
FOP Lodge 82 Towson University Police
Geneva P. Foster and James H. Foster
Joshua Fowler
CINK Fundraising
Peter H. Gambrill
Garber-Schwartz Family Philanthropic Fund
Mr. and Mrs. Wilfried K. Gehne
Giant Community Bag Program
Mr. and Mrs. John B. Gillett
Mr. and Mrs. William Trimble Green
Mary Guthrie
James M. Hannan
Christopher Hertz
Mr. and Mrs. Michael Hilditch
Dan and Gina Hirschhorn
Mr. and Mrs. Henry H. Hopkins
Mr. and Mrs. Vincent P. Horan
John and Barbara Jackson
Leah K. Jordan and Donald R. Jordan
Miriam E. Katowitz and Arthur J. Radin
Vicki Leemon
Lessin Family
Randi Leventhall
Lawrence Lubetsky
Dorothy B. Lyles and Amy E. Dunsmore
Mr. and Mrs. William S. Lyon-Vaiden
M.D. Farrell, Inc.
Janet Machamer
Amy Macht and George Grose
Howard Marsh
Julie S. Marshall
Stuti Khemani and Rafael Martinez
Mr. Jonathan Mayer
Marc Mazer
Allison McIntosh
Barbara McKewen
Marcia Meyers and Roy Meyers
Bettie and John Modrak
Kim Moody
Mary Ball Morton and John Morton
William and Sandra Morton
Katherine Moss
Marie L. Moylan and David M. Lewis
Mary Murphy
Howard Murray
G. H. Nitzel, Inc.
Novetta
Glynn I. Owens
Yvonne M. Page and Gerald E. Page
Mr. and Mrs. Anthony J. Paolini
Christopher Pathe
Lanell W. Patrick
Gail Phillips
Wendy Phillips
Potomac Tile & Carpet, Inc.
Ms. Danielle Queen
Qazi Rahman
DuWayne Ransom
Barbara and Gary Reguerin
Dana Rice Group, LLC
Donna L. Richardson
Gabriele J. Richter and Mark A. Richter
Mary Ridgway and James Ridgway
Theresa M. Roney
The Will Group RS Will Wealth Management
Marilyn and Robert Schaftel
Diane Schechter
Betty J. Schwartz
Gayle Schwartz
Hannah Scoffone
Laura and Sam Smith
Llewlyn Smyth
Shari Snowman
Philip Soper
Saint Luke Evangelical Lutheran Church Women of ELCA
Mr. and Mrs. Michael Strouse
Jean M. Thompson and William W. Thompson
Faye E. Thompson and Tommie E. Thompson
Sandra and Ron Thompson
Thompson Automotive of Dundalk
Janet A. Timbie and James P. Timbie
Tara E. Kane-Tomany and Kevin S. Tomany
Susan VanHorn and Andrew VanHorn
Irene Vanzijl
Anita Venner and Ira Steinberg
Steve and Melpa Warres
Wegmans Food Markets, Inc.
Frances A. Wenner and Frederick A. Wenner
Dr. and Mrs. Clifford R. Wheeless
Kathy and Brett Widenhouse
Jim Willard
Jud and Gay Williams
Joseph Williams
Gail Wohlmuth and Louis Wohlmuth
Melissa J. Fast and James R. Wrathall
Danielle K. Yearick
Mr. and Mrs. Alan M. Young
Bruce Zavos
Zavos Architecture+Design, LLC
Carol A. Zingo and John J. Zingo
Linda Zumbrun
The tributees listed below were honored with gifts of $100 or more between July 1, 2020 and June 30, 2021.
In honor of Scott Aaronson, MD:
Drew Pardoll
In honor of Cheryl Ann Alfano:
G. H. Nitzel, Inc.
In memory of John Anderson:
Faye and Tommie Thompson
Sandra and Ron Thompson
Thompson Automotive of Dundalk
In memory of Ray Ault:
William J. Ault
Donna A. Blanck and Ronald A. Blanck
CatherIne R. Cecere and Fred A. Cecere
Dorothy B. Lyles and Amy E. Dunsmore
Mary L. Summerville and Donald C. Summerville
Shelley Summerville and KevIn Summerville
Jean M. Thompson and William W. Thompson
In honor of Lisa Baird:
John Bendell
In memory of William J. Bollens, Jr.:
Nita and Henry Hartless
In honor of Harry Brandt, MD:
Wendy Phillips
In honor of Steven Crawford, MD:
Wendy Phillips
In memory of David Cursey:
Janet Machamer
In memory of Max CurtIn:
ATS Consultants
In memory of Ann Dasbach:
Emma Collie
In memory of Jack Davidson:
Patricia Adams
In honor of Kate Deturck:
Tara E. Kane-Tomany and KevIn S. Tomany
In memory of Nancy Diener:
Kathy Widenhouse and Brett Widenhouse
In memory of Stacy Dorsch:
Karen O. Benson and George W. Benson, III
In memory of Andrew Drake:
David Drake
Julie S. Marshall
Donna L. Richardson
In memory of Gail Duryea:
Suzanne Duryea
In memory of Benson Geiser:
Gabriele J. Richter and Mark A. Richter
In honor of Stephen Gibson:
Anonymous
In memory of Gentry GIngell:
Diane GIngell and Robert GIngell
In memory of Ronald Goldberg, MD:
Anonymous
In memory of Mariah Green:
Paula EInaudi
In memory of Elizabeth M. HaInes:
Stone Family Fund
In memory of Anna Hannigan:
Llewlyn Smyth
FOP Lodge 82 Towson University Police
In honor of Fred Jessee:
Betty J. Schwartz
In memory of Anne Marie Jordan:
Gay and Jud Williams
In honor of Anne Marie D. Jordan:
Joseph Cox
In honor of Robert W. Wisner-Carlson, MD:
Vicki Leemon
In honor of Sarah Loeffler:
John Bendell
In honor of Mary Murray McFadden:
Howard Murray
In memory of Mrs. Molcan:
The Will Group RS Will Wealth Management
In honor of Margaret McKenry Nash:
Robert H. and Monica M. Cole Foundation
In memory of Michael Reeves:
Michelle Brandenburg
In memory of Tom Scott:
Bettie J. Modrak
In honor of Sheppard Pratt Center for Eating Disorders Staff:
Wendy Phillips
In honor of Sheppard Pratt Human Resources Staff:
Patti A. Arkuszeski
In honor of Sheppard Pratt Trauma Disorders Staff:
Hannah Scoffone
John P. Biggs
In memory of Dr. Emanuel Silverstein:
Lisa Blue
Tom Brendle
Patty Dirla and Fred Dirla
Mary Guthrie
Marcia Meyers and Roy Meyers
Barbara and Gary ReguerIn
Gayle Schwartz
In memory of Joyce Slessman:
Barbara McKewen
Dr. and Mrs. Clifford R. Wheeless
In memory of Michael I. Smith:
Amy Bachelder
GoldwIn I. Smith, Nancy Schiffer & Grant and Amelia Howerton
In honor of Herman Smith:
KatherIne Moss
In memory of Patrick C. Snavely:
Laura L. Gamble and Rob W. Gillison
In honor of Ian Toomey:
Maria FontaIne and David Brlansky
In memory of Aiden TremaIne:
Peter H. Gambrill
In honor of Harsh K. Trivedi, MD, MBA:
Jodi and Sam Moskowitz
In memory of John ValentIno:
ATS Consultants
In honor of Crystal WatkIns, MD, PhD:
John Bendell
In honor of Jean Waugh:
Colleen Cornwell
In honor of Gay Williams:
Jud Williams
In honor of Tim Yearick:
Danielle K. Yearick