Sheppard Pratt has announced that it has earned the "LGBTQ Health Care Equality Top Performer" designation for its Towson hospital campus from the Human Rights Campaign Foundation (HRC). The designation was awarded in the 13th edition of HRC's Healthcare Equality Index (HEI). Sheppard Pratt was one of 193 health care facilities that earned an "LGBTQ Health Care Equality Top Performer" designation, scoring 95 out of 100 points.
This is the first year Sheppard Pratt submitted for the HEI survey. The organization has implemented systemwide processes, policies, and committees to develop diversity, inclusion and health equity strategies that ensure inclusivity throughout its programs and services to best support its LGBTQ patients, visitors, and employees.
"Sheppard Pratt seeks to serve and support individuals in the LGBTQ+ community by providing the best and most compassionate behavioral health care, treatment, and therapies," said Harsh K. Trivedi, MD, MBA, president and CEO of Sheppard Pratt. "We recognize that individuals who identify as LGBTQ have far greater rates of anxiety, depression, and suicide. We are committed to fostering an inclusive environment that welcomes everyone—regardless of their gender, gender identity or sexual orientation—and provides world-class, meaningful care."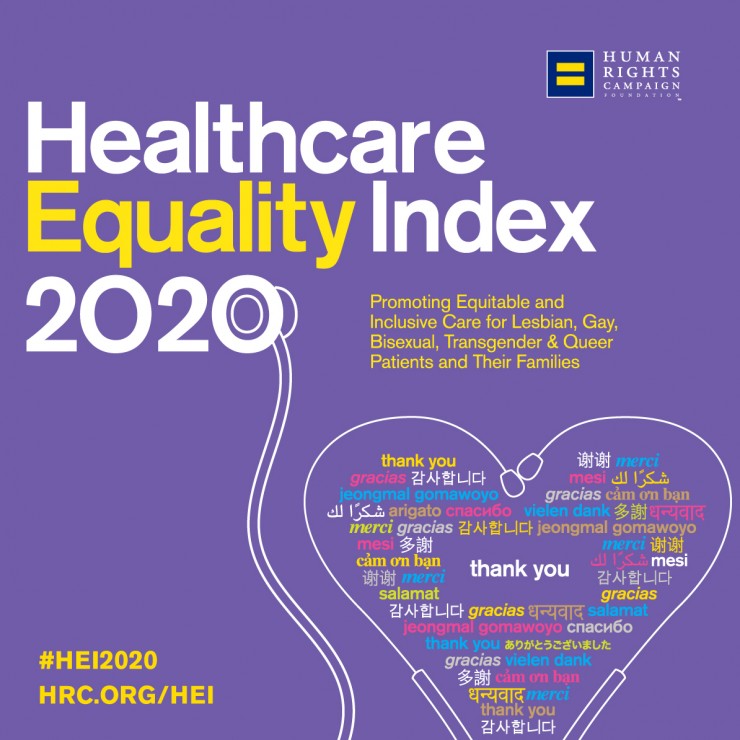 "From the previously unimaginable impact of the COVID-19 pandemic to the horrific incidents of racial violence targeting the Black community, the events of the past year have brought about so much pain and uncertainty. Yet, even during this moment of profound unrest, we are seeing more of our humanity and resilience come to life. For me, nowhere is that more true than through the tireless dedication of our health care providers and the intrepid support and administrative staff members by their sides that show up every day to ensure this life-saving work continues," said HRC President Alphonso David. "The health care facilities participating in the HRC Foundation's Healthcare Equality Index (HEI) are not only on the front lines of the COVID-19 pandemic, they are also making it clear from their participation in the HEI that they stand on the side of fairness and are committed to providing inclusive care to their LGBTQ patients. In addition, many have made strong statements on racial justice and equity and are engaging in efforts to address racial inequities in their institutions and their communities. We commend all of the HEI participants for their commitment to providing inclusive care for all."
Every year, HRC recognizes the health care facilities that participate in the HEI for their dedication and commitment to LGBTQ inclusion. With 90% of participating facilities scoring 80 points or more, health care facilities are demonstrating concretely that they are going beyond the basics when it comes to adopting policies and practices in LGBTQ care.
The remarkable progress reflected in the 2020 HEI includes:
92% of participants met the HEI's training requirements, completing more than 150,000 hours of staff training in LGBTQ patient-centered care.
99% of HEI participants documented that they include both "sexual orientation" and "gender identity" in their patient non-discrimination policy.
99% of HEI participants documented that they include both "sexual orientation" and "gender identity" in their employment nondiscrimination policy.
53% of HEI participants indicated that their facility has a policy or policies that specifically outline procedures and practices aimed at eliminating bias and insensitivity, and ensuring appropriate, welcoming interactions with transgender patients.
After many years of trailing their corporate counterparts in the provision of transgender-inclusive health care benefits for employees, HEI participating healthcare facilities are nearly on par with the HRC Foundation's Corporate Equality Index (CEI) participants as 80% have at least one health care plan that offered this benefit. The latest CEI noted 85% of participants having such benefits.
The Human Rights Campaign Foundation is the education arm of America's largest civil rights organization working to achieve equality for lesbian, gay, bisexual, transgender and queer people. HRC envisions a world where LGBTQ people are embraced as full members of society at home, at work and in every community.
---
About Sheppard Pratt
Sheppard Pratt is the largest private, nonprofit provider of mental health, substance use, developmental disability, special education, and social services in the country. A nationwide resource, Sheppard Pratt provides services across a comprehensive continuum of care, spanning both hospital- and community-based resources. Since its founding in 1853, Sheppard Pratt has been innovating the field through research, best practice implementation, and a focus on improving the quality of mental health care on a global level. Sheppard Pratt has been consistently ranked as a top national psychiatric hospital by U.S. News & World Report for more than 30 years.