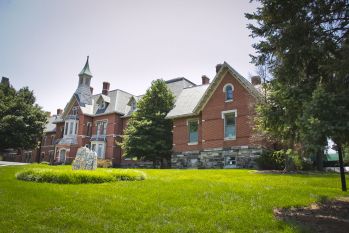 I first entered the doors of Sheppard Pratt this past fall as a graduate student and eager social worker-in-training. Although nervous and apprehensive, I made a commitment to put my best foot forward every day and remain open to new learning experiences and challenges. The internship experience in itself is unique: it provides learning opportunities through the guidance of the supervisor and at the same time pushes the student to become autonomous in the social work role. My supervisor, Cindy Frank, has not only been a guide and a source of comfort for me, but she has helped me show myself what I am capable of. I am well into the second semester of my internship, and find myself working with families and patients with newfound confidence in my skills. The learning curve has been steep, but learning how to navigate uncharted waters has been an invaluable experience. 
One of my biggest challenges as an intern at Sheppard Pratt regards my preoccupation with doing everything "the right way." I had a strong desire not only to prove myself, but to draw upon and employ everything learned in the classroom. I feverishly took notes during supervision and prepared countless talking points prior to meeting with families and patients. About two months into my first semester, I realized how overwhelming this desire to do and say the right thing became for me, and it was compromising my ability to remain present and mindful with patients and their families. While I still hold myself to high standards and have goals for each interaction, I am now comfortable with remaining present as it allows me to fully respect the patient and follow their path. 
This internship has allowed me work with many professionals in different roles within the health system. Collaborative, interdisciplinary work is central to social work. It encourages comprehensive treatment planning, brainstorming, and mutual support toward a common goal. I constantly learn from every team member and respect their unique skill set and experiences. I am lucky to be placed in an internship that helped me develop collaborative skills so early on in my career as a social worker.   
When I first started the process of selecting an internship through the University of Maryland, I had one central request: I had to be working with children. My undergraduate placement within a child advocacy center sparked my interest in working with children in crisis. A longtime nanny, I believed I had perfected the art of talking with and relating to children. Much to my excitement, I was placed on the inpatient children's unit, and I quickly fell into step working with the kids, recalling and drawing upon all of my experience. I enjoyed working individually with the children one-on-one, but what surprised me the most was how quickly I fell in love with family work. Although at first they were extremely intimidating, family sessions became what I now look forward to the most in my internship. It is a collaborate effort, and requires negotiating the needs, challenges, and strengths of the family system, almost in a dance-like fashion. The social worker also acts as a facilitator and guide, giving families tools and information related to crisis stabilization. Family work can be difficult, but every challenge along the way has taught me a new skill.
I could speak to so many additional aspects of my internship experience: the importance of empathy, learning the complexities of medication management, employing different theories in practice, negotiating the child welfare system, and more. To future interns at Sheppard Pratt: make your mistakes (that you inevitably will) and learn from them, be bold, ask questions to everyone, and finally, hold onto your good pens for dear life.
---
Jenn is currently an intern on the Children's Inpatient Unit at the Sheppard Pratt Towson Campus. She is enrolled in the MSW program through the University of Maryland Baltimore, and has a clinical concentration in children and families. Jenn hopes to use her degree to advocate on behalf on children, adolescents, and families.