It's almost that time of year: the air will be a little crisper, the leaves will start changing color, and you'll be getting your elementary-aged kids back into their school routine. There will be buses to catch and homework to do, and a totally new classroom on top of it all.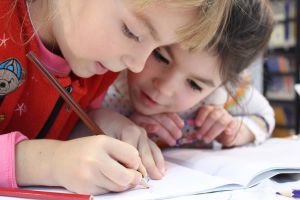 Structuring your child's schedule and preparing them for the change are essential for their success as the school year begins. Achieving this routine is no small feat after several months of no work and all play. How do you go about the transition for your children in elementary school?
We've included some tips for parents on this process below. We also spoke to an elementary school teacher in the Baltimore area who provided some insight into preparing your child for the back-to-school change.
Get involved and set an example. Always be as engaged as you can in your child's school activities and classroom environment. Demonstrating an interest in their studies will motivate them to be interested in their own work, and feel like there's value in what they're learning. Beyond asking them questions about what they did in class that day, show them the ways you use the skills they're learning in the real world — point out the things you read, write and calculate as you go about your day. If you can, volunteer in your child's classroom.
However, it's important to also give your child the appropriate space. The teacher we spoke with mentioned the need to create a quiet space at home for homework, and making sure your child is equipped with what they need to do it. Try not to hover when they are completing their assignments, but do make yourself available to them if they need you. The key is finding a balance between your direct guidance and allowing their independence to grow.
Meet the teacher and look around the school. To help ease any potential anxiety your child might have about a new teacher and classroom, reach out to their teacher and take a trip to look around school. Make yourself known to the teacher and establish a connection with them that will be helpful for the remainder of the year.
Practice your routine. Before school begins, go over your child's routine with him or her. Practice waking up and going to bed at the necessary times, and packing their backpack and lunchbox the night before. This will make the transition between summer routines and school schedules easier for everyone, yourself included.
The teacher we spoke to emphasized the importance of establishing a routine. She described how kids may be sleeping in during the summer, so adjusting their wakeup time gradually is key to getting back into the swing of things. She added that often, students' stamina needs adjusting at the beginning of the semester; your child will probably be used to the lazy days of summer, and so it may take a week or two for them to reacclimate to the intensity of a full school day. Be patient with your child — they'll adjust soon enough.
Go school supply shopping. Take your child on a trip to the store to buy all the supplies they need for school, be it paper or notebooks or pencils. Help them to devise a list of what they need and what they've retained from last year. Purchasing new materials can boost a sense of readiness and excitement in your kids as they start the school year.
What strategies have you found most successful for your kids as they go back to school? What have been your biggest challenges? Share them in the comments below.